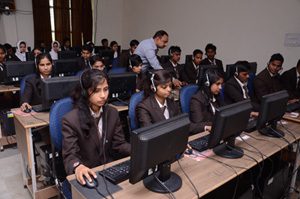 Institute provides state of the art computing facilities to students & faculty members. The Centre has cluster of software's based on LINUX, WINDOWS, XP, Vista and 2000 Servers, configured with soft wares such as C,C++, Visual Basic, Java and Oracle and 9i / 10g developer. There are 120 computers – Core 2 Duo, connected through high speed switches on a Local Area Network. Internet is available with a speed pf 2 MBPS having a ratio of 1:1. A large number of system software's & application software's are available LINUX, WINDOWS, XP, VISTA, C, C++, Visual Basic, Java, Oracle etc. All computers are connected on LAN & WAN.
LEARNING RECOURCES
The collection includes
Books & E – books.
Reference sources.
Periodicals & E – Journals.
Audio – visual materials, etc.
Reprographics facilities.
INTERNET
The institution has Internet for students, faculty & admininistrative staff to facilitate efficient and effective searching of information through various online databases and catalogues. The Institution has high speed Internet connection of 2MBPS available round the clock with 24*7.