B.TECH. PROGRAMME IN ELECTRICAL ENGINEERING (EE)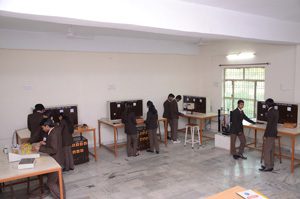 Electrical Engineering is the application of the laws of physics governing electricity, magnetism, and light to develop products and services for the benefit of humankind. It is a professional discipline that deals with the application of electricity, electronics and electromagnetism. This branch offers exciting job opportunities for students in the rapidly evolving fields of information and communication technology and the latest advances in the more traditional areas of power, control and electromagnetism. So electrical engineering deals with the problems associated with large-scale electrical system such as power transmission and motor control.
Electrical engineering are instrumental in revolutionizing the lives of modern man. They are required by the industries manufacturing all the household and office appliances like refrigerators, televisions, computer, microwaves and what not. In our age of satellite-transmitted television and transcontinental computer networks, these engineers are high in demand. Electrical engineers also find employment in atomic power plants, hydroelectric power plants as well as thermal power plants. Job responsibilities include specification, design, development, and implementation of products or systems, as well as research to create new ideas.