FROM THE DESK OF EXECUTIVE DIRECTOR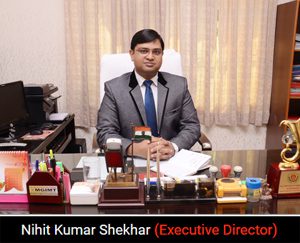 At MGIMT we have cared to bring in well acclaimed, illustrious, student – friendly, active and accessible faculty with commitment, integrity and dedication. MGIMT has been striving for excellent teacher – learner ambience since the outset. It has created enviable infrastructure in the form of latest Learning Resource Centre, Computer Centre & Laudable Laboratories. Technical education today needs a closely juxtaposed interaction with industry, R&D houses and academics of excellence. We have advanced considerably and are in the process of making fast intimate interaction with the industry. MGIMT creates technologists enlightened with value – based conduct, honesty, integrity and love for the profession.
In the present socio – economic scenario of globalization, higher and technical education has come to occupy the center stage. Scientific community has been significantly converted into a round – the – world community sharing concepts, exchanging ideas and collaborating on projects with an international yardstick. Web based learning system, fast growing use of internet, importance of video conferencing in learning and research and considered these days as a common practice in the myriad developing fields around the world.
We visualize a broad system with multi – channel objectives of achieving competitiveness on quality parameters by introducing various newer techniques and educational methods like smart class rooms, interactive education system, intensive use of e – sources for knowledge gain and dissemination of information for effective use in tutorials and seminars.